The first game, which from now on I'll refer to as WD1, comes in a really big box with pretty scenery all over it and many promises of fortune, luck and enlightenment to the player, which my eye skips over as it skips over the ads in a webpage. Supposedly, the game idea was conceived by a Native American who wanted to put people in touch with Nature and their inner selves, but the bandwagon was jumped on by various guru types, who, apart from the dear old Tibetan monk, are insufferable. It begins with a self-importantly aspirated voiceover ("Ihn the Bheginning...") and animation which I always cut short, although the animation, ending on a pseudo-gypsy woman finishing her writing before hopping on a zebra and riding off, is quite nice with the system sound muted. In fact, I recommend playing your very first game with the system sound muted (there is no volume slider in the game itself) and making a "StartHere" save after the waffle is done; there is an option to start the game without Sophia's introduction, but even with this option ticked she will pop up when the player enters certain screens for the first time, and she's not the only character who would benefit from a ball gag. (Click on the screenshot pictures below to see the larger versions.)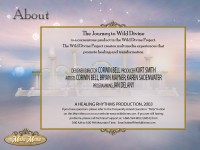 Not that the game starts straight away: first, the Lightstone needs to be tested; if it's not connected, the game will tell you to take care of that first. This screen, which can be revisited from the main screen by clicking on "System", shows the heartbeat as measured from the middle finger, and the surface electricity of the other two fingers. While doing so it plays peaceful music, and anyone who wants to measure biofeedback rather than play a game can just stay in this screen. It's also more instructive than the game, having taught me the following: when I sit still, the SCL detection (how much "energy" the Lightstone registers) drops, without me doing anything. When I make a random movement, it steeply rises. When I make that same movement again: no effect. When I make a different movement, it rises again. My mood, state of relaxation and emotional reactions, however, have NO EFFECT WHATSOEVER on the Lightstone - so much for "playing with brainwaves" - and my breathing doesn't seem to do anything, either. In short, not only can I easily cheat my way through this game, but winning it fair and square is impossible because the hardware doesn't provide the feedback promised.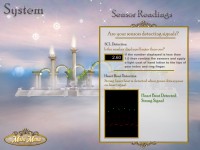 And here, ladies and gentlemen, we have the main screen. Isn't she lovely. Give her a clap. The options to take a good look at are "How To Play", because the interface is not intuitive, and optionally "FAQ".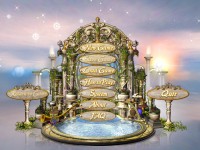 When a new game is started with the default option, Sophia ("Wisdom", because that's how humble the game is) appears; she is going to be your teacher, whether you asked for one or not. She's useful for a first-time game because she leads the player past a few important points, but this part is best sat through with the computer's sound muted: just follow her once she's stopped mouthing and gesticulating and goes elsewhere. For the masochists who want to know what she says: first she tells you to revolve the pinwheel. (I'm not sure this is even necessary, though the game claims it is.) Then she leads you into something like a deserted sultan's courtyard, with sumptuous hangings and carvings and flowerpots, flowerpots everywhere, and a fountain in the middle, part of the courtyard surrounded by half an amphitheatre. She takes you for a walk around the amphitheatre and a man materializes, juggling balls. Sophia introduces and then starts commanding him: "Concentrate! Focus!" followed by a disgusted "Oh!" when he drops a ball, presumably because his concentration was broken by a woman in gaudy rags jabbering at him. Now it's your turn! [Ahhhmmm] Breathe deeply! Laugh! Remember a time when you were young, and full of energy!
This makes a number of daring presuppositions: that the player 1. is adult, 2. was full of energy as a child, 3. is not full of energy now. Okay, juggle balls (or not) and then go to a bridge where, if the sound is off, the game will seem stuck because Sophia goes out of sight while forcing the player on a minutes-long guided imagination trip revolving around apples, so when an apple starts revolving in the air, your wait is almost at an end. Finally, she disappears over the bridge in a flash of blue and now you can cross into the fog to find the Lady of the Woods!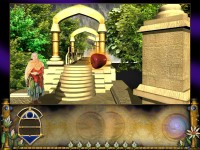 Well, here we are in the wood. A wolf appears. And another. And another. And so on. Finally, a white-ish wolf stands alone in the clearing and walks off looking over its shoulders, expecting the player to follow. As the whole game looks pretty, the door it leads the player to is too ornate for a simple cabin in the woods, but what the heck, this is a place of magic. Sophia said it, so it must be true.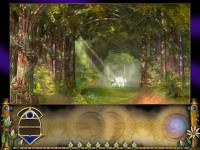 The owner of the cabin wants a fire made (the more you relax, the higher the flames...) while she finishes your magic bag, which is necessary to collect the rose, which is necessary to watch the Double Durga Dancers, which is necessary to get the Durga eye, which isn't necessary at all but provides helpful feedback. (Also, the bag may be needed to collect the crystals; it's a long time since I played this game to its end, so I can't exactly remember.) If the sound is on, the Lady of the Woods will waffle that you must be special because "Luna" (the white wolf) is usually very selective in who she brings to the cottage. (Here's what makes me special: money transferred itself from my wallet to the game seller.) The mirror to the left may be useful if you're stuck, so I make a first bookmark here. Drop the seed of your question into the metaverse!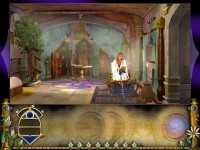 Ooh, there's a bag in my inventory! At last, Sophia says you're on your own from here on, but suggests you visit the Temple of Awareness. Her dog (that collie on the left) will guide you. In case that wasn't obvious enough, her voice will go "follow the dog" whenever the mutt scoots past. It's not time to turn the sound back on yet.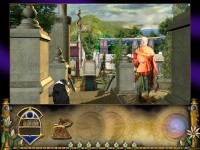 It is, however, time to mention the map. The map of the fantasy garden called the Sun Realm is brought up by pressing the M key, and closed by pressing the M key again. The first thing that deserves mention: this map shows a few large features, but NOT every site where the player can find an "event" (a biofeedback exercise). Next, it does NOT have a "you are here" marker. Finally, but that follows from the first complaint: it does NOT offer quick travel. This has been improved on in the second game. Given that the features are not named in the screen where they appear (so when, for instance, I'm surrounded by coloured standing stones, I can only deduce that these are the Rainbow Rocks) and I'm crap at map-reading and remembering routes, and that travelling from point to point isn't done logically (I click on a down stairs to get to the middle of the courtyard, and the - unskippable - "travel" animation takes me down the stairs, across the courtyard and up the opposite stairs, where I didn't plan to go) the improvement is a welcome one.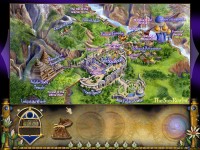 I have to turn back (if there is a possibility of turning back, broad purple arrowheads will appear on the sides of the screen when I move the wand-shaped cursor there) because the courtyard is where I will a wheelbarrow of flowers, including the layered-lollipop flower that passes for a rose. Once that rose is in the inventory, it stays there forever, no matter how often I offer it to the Double Durga Dancers. But before I visit them, Doggit wants me to go to the Temple of Awareness.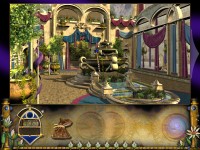 Those who have watched the animated intro may remember an outline of a figure sitting in a stylized depiction of the lotus position, while holding its arms over its head. This is the figure depicted on the gate of the Subtle Body Temple, right next to the Temple of Awareness which is up the stairs to the right, and the place where the player was supposed to be going. If instead you stray from your journey and succumb to the lure of the gate, Jean Houston will get her claws into you.
The opening of the gate is just another biofeedback event. Once inside, four women in colourful shawls will dance while pretending to be from India, then sit down demurely while a voiceover explains that you must now take off your biofeedback gadget and obey the orders on the screen. Said orders are given by none other than the patroness of Suffering herself, and include making your astral body hop. I kid you not. To avoid having to sit through her self-important droning, leave the temple as soon as the dance is over.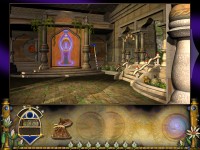 If you skip both the stairs to the right and the gate to Jean Houston, and instead turn all the way left, there's a nice little surprise. The heart over the first few steps indicates that this is a "heart" exercise, instead of the "raise/lower energy" exercises that the Durga eye is useful for. Supposedly, one needs to regulate one's heartbeat to build up the stairway leading to an otherwise unreachable location. In practice, all I have to do is sit still and enjoy the soothing sights and sounds until wham, the bridge is completed and I'm rushed off to a biofeedback playground.
This biofeedback playground features three circles in which you can make your "energy" produce lines and patterns that cycle through the colour spectrum. As Bart Simpson would say: "Coool."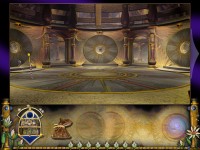 Return and go up the stairs to the right to visit the Temple of Awareness, complete with genuine Tibetan monk. (You can make a bookmark or savegame to return to the playground, but I find building the bridge every time to be too much fun.) Once he's finished jawing (sure, he's not as irritating as the others, but how about just shutting up and letting me play!!) a picture of him will enter the inventory and can be clicked on to give advice during any biofeedback event the player is engaged in. This is totally unnecessary as the events are quite simple - calm down, get excited, level heartbeat - but the exercises in his temple are enjoyable enough to merit a second bookmark. And that's your lot: one "undo" to go back to the previous location and two bookmarks to jump to, the only other way to directly access other places and events is through savegames. The waffle is almost at an end, the StartHere savegame can be made in a conveniently central spot and the sound turned back up; there are two more wafflers along the way, but they're easily avoided. Time for the Double Durga Dancers!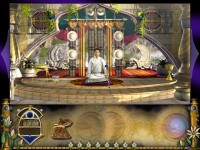 The route to the Double Durga temple goes over the Silk Road. Entering involves being swooped over a pool of rainbow water. Inside, two remarkably professional Indian dancers (especially compared to that Subtle Body Temple charade) perform a dance of water and fire at opposite ends of the temple, the only marring elements being the nasal American drawl telling me twice to offer the rose on the altar (it's the same rose both times) and the repeated message in a thick Indian accent that I have received the Eye of Durga (how about just checking the game flag to see if it was already delivered, thanks?) There's no event here, and no reason to return except to see the dancers again.
What this Eye of Durga does: any time I approach an event not of the "heart" type, a pair of eyes will open over it in blue or magenta to tell me if my "energy" should be raised or lowered, and a vaguely eye-shaped meter appears in the inventory bar. The "zero" value for this energy meter is whatever the player's signal is when starting the event, so to easily finish events, get your signal really low (happens naturally in my case) before starting a "magenta" event and really high before starting a "blue" one.
As an aside, Durga is one of the consorts of Shiva, or rather one of the aspects of his consort: a fearsome goddess of war riding a lion (or tiger) and carrying in her eight arms all manner of choppy and stabby implements to exact swift justice on the western hippie hordes whose sole understanding of the tangled mess of deities and beliefs caught under the umbrella term of Hinduism is that it's "deep, man, deep".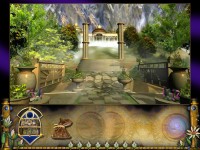 A nice spot for that StartHere savegame would be the Rainbow Rocks, which need crystals delivered to them at some point. Besides, they're pretty. An elevator (operated by "energy" of course) takes the player up to the raised walkway which leads to the Town of Reverence, where said crystals are found in a shop.
Right at the top of the elevator shaft, be sure to avoid the Theatre of Inner Imagery. If you enter, a guy who talks like the one from the "Don't Worry, Be Happy" song begins an uninterruptible yaddayadda about the mind flic he made with Sophia last week and how you need to get another person to play with you and suggest images to each other, after which you're ushered into the theatre hall. Opening the hall's roof is a biofeedback event, but the swirling colours you see after that mean exactly nothing, being purely background to this two-person imagination session that the game insists you try.
Like the Subtle Bullshit Temple, this scene shows the central flaw of the game: its manipulative purpose. When a company produces a first person shooter, the game is a first person shooter bought by gamers who want to play a first person shooter. The games of the Wild Divine project are more like a "free games" site designed to make visitors accidentally click on its ads - the second game has an actual ad in it - since they are attempts to squeeze the buyer of the game into a certain mould, under the pretence of being games controlled by biofeedback data instead of a mouse. The free games on an ad-riddled site can still be enjoyed as long as the player keeps an eye peeled for ads, or installs AdBlock; likewise, the biofeedback play can still be enjoyed by blocking out the manipulation attempts. Still, it's sad that games/sites resort to such underhand tactics.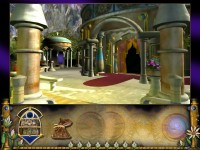 And here we are, ladies and gentlemen, in the Town of Reverence. On the left, the door to the Crystal Shop. On the right, the door to the "you WILL want to clock this guy" shop.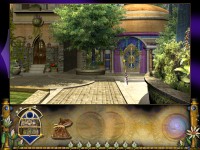 Enter the clock shop, and a man in a medieval monk robe will start blathering about time and how it is relative. Set that clock to twelve o'clock, will you? (Finish biofeedback event.) Well, here you are on a balcony with a giant hourglass. The hourglass will now turn over and Clockman will go blah, blah, BLAH until the sand runs out. There, you have now learned to slow down time so that you can experience a passage of hours in a matter of minutes. Waiting for the blather to end (characters who are starting to blather can be cut off by leaving their location, but only if you click on the exit fast enough) certainly felt like an eternity, and demonstrating that the perception of time is relative by forcing someone to wait for a certain period is absolutely not a stale and over-used cliche. I know some people love such babble and lap it up like wine, but dear gods, this kind of mouth noise is why genuine spiritual seekers take vows of silence.
From here on, it's smooth sailing with the occasional bit of blah-blah, notably from the Falconer, who dresses like, and probably is, Clockman, and a message at a certain crossing that it can't be crossed until the next game (which starts with the player flying to the other side). Must-see sights are the Celestial Telescope and the Pool of Akki.
Of course, the game isn't all loitering around: you have a Purpose! Find a way inside the Tower of Legends, descend to its musty basement where a boat awaits you, float to a sleeping Lady of Compassion and wake her up.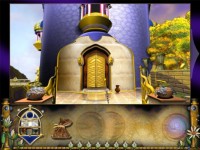 There, you have now beaten the game and become Enlightened. Your creativity and productivity are legendary, your bank account is bursting and your force of personality is such that comely girls/boys/sheep (check which applies) throw themselves at your feet begging to be your lover - all because of the Mind Powers you have awakened by following the game's instructions! Enjoy your Success!
Or just fire up an old savegame for more gameplay and eye-candy enjoyment. Whichever.
Replaying part of the game for screenies really reminded me why I've left it lying about in the dust for so long. That said, I still prefer it to its successor.

Wisdom Quest, or WD2 as I'll call it, doesn't have screencaps yet. This is because, out of sheer disgust, I didn't even finish it the first time I played it. It is technically, visually and musically superior to WD1. Instead of being carted from one screen to another, the player is still moved from point to point, but can look around 360 degrees at each point. It starts wonderfully with a flight over a divide and a hot air balloon that has to be launched and a walk down a quay from which various colourfully decorated rooms can be accessed. These rooms have lots of pretty things to look at that don't actually do anything, the same problem as with Myst. (The first games I played were text adventures, so I expect every item that draws my attention to have a function.) Travel is improved, each biofeedback event that has already been visited can be accessed directly, and there is even a guided tour mode that skips the game and simply leads the player past the events. The biofeedback events are now more sophisticated, requiring the player to raise, lower and hold their "energy level" with precision, which simply means I have to cheat harder and still can't play straight, as the Lightstone doesn't measure my "energy level", period. The manual is a centimetre thick, describing every single event with blurb texts that are all permutations of "doing this exercise will help you in your real life".

Oh, and the bashful little green pixie girl with her faux-cute slurred speech. Liquid, boiling hate.

Anyway, this part will be updated when I can bring myself to play it to the end.

Revisiting the Wild Divine website after some ten years shows that game development is still more or less stalled in favour of "deep breathing"-type courses. There is one set of casual games, or rather one game in five variations, of the time management type, only with biofeedback instead of mad mouseclicking; the graphics are unimpressive. The two Wild Divine games are no longer available, although maybe they could be bought secondhand on eBay or something, but have been re-released as one game in a new format. To quote the site:

Wild Divine: Return to the Sun Realm - this is not your parent's Wild Divine! It's been 10 years since The Sun Realm became your world, and there's never been a better time to revisit the Realm. The newly refreshed and rebuilt version of Return to the Sun Realm is all-things Wild Divine, but amazingly more real. You can explore anywhere, unfettered, and in real-time!

The other products, available for both Windows and Mac, are:
Relaxing Rhythms: 15-Step program featuring leaders in mind/body wellness
Formerly Healing Rhythms, which succeeded the games as an indication that the "masters" now intended to train their sheep directly, not even bothering to dress it up as a fun game. Well, maybe it still has eye-candy:

Watch your responses in real-time, on screen! Practice these time-tested techniques along with your mentors as you listen to relaxing music and watch soothing visuals transform on your screen. Or switch to the Grapher Mode and track your reactions as they rise and fall in synch with your state of mind, thoughts, feelings, and emotions.

Much as I'd enjoy messing around with biofeedback toys, the "with your mentors" bit worries me. This title needs to come with a guarantee that all "mentors" involved can be clicked away as soon as they open their mouths.

Zen Journey with Master Nissim Amon: Authentic Zen Training with a Zen Master
In the way that yoga classes for rich white women are authentic yoga. Two excerpts from the product description:

A new and exiting innovation in Zen Journey is the "Intelligent Guide". During key meditation sessions guided by Master Amon, your Iom will detect whether your mind is wandering from the teaching, and this will trigger the Master to give you helpful guidance. If you are doing very well, the Master will also give you positive feedback.

So, the Iom has mastered telepathy? What an exciting technological breakthrough. And the Master will be doing exactly nothing: the installed software will play back a recorded message depending on input from a non-living, easily manipulated device.

Once you have accumulated enough time at each robe, and participated in enough quality meditation time, the Master will summon you and present you with the next robe. These personal meetings are quality one-on-one time with the Master, where he reveals a story, koan, or teaching that is essential to your success at the next level.

They are not personal meetings, they are recorded videos of what promises to be intelligence-insulting pseudo-spiritual babble, and they are not essential to meditation. Much as the beautiful background shown in the screenshot entices me, the course promises to be too aggravating to allow for its claimed purpose of teaching inner peace. (Or is that the challenge: if you can sit through this nonsense without popping a blood vessel, you are a true Zen Master?)

Mindfulness Academy: 6-Steps to Balanced Living
Although the games might be amusing to a wage slave in a Dilbert cubicle, the purpose of this title can be summed up as "be less of a worker ant, so you can be a better worker ant". As the product description says:

Mindfulness Academy by Wild Divine is a flexible, entertaining way to hone your focus and concentration, increase and maintain your energy, even if you are feeling overwhelmed. Very quickly, you begin to see how to live a life that's less about your stress, and more about realizing your dreams; less about what you MUST DO and more about fulfilling your ever-expanding potential to THRIVE in every part of your life.

Here's what also increases and maintains your energy: eat plenty of vitamins and take a walk outside once in a while. Works better than any software.

While immersed in on-screen play and exercises, your mind is subtly diverted from stressors and towards positive states. You learn to defuse challenging situations, people, emotions, and thoughts faster, easier, and more naturally. So you can get back to your life. Have better relationships. Be more productive. Feel more balanced and focused. Have more fun!

I say, do any buyers for whom all these grandiose and overblown claims don't come true, get their money back? The game also has customizable Positive Affirmations. Just think how that could look: "Every day, my pen1s is getting longer and harder." Oh woe, the Viagra market will collapse.

Conscious Food Court: New, fun suite of games with real-life benefits
Finally, a real game. Quoting the description:

The "Coffee Bar" game within Wild Divine Online's City courtyard proved to be wildly popular, and is one of the most visited Active Feedback activities. We've decided to expand the Coffee Bar outside of Wild Divine Online, and into the rest of a town square, complete with Sushi, Tacos, Ice Cream, and Pizza!

This collection of five distinct Wild Divine games, each with nine levels to conquer, is tons of fun, but will simultaneously train you to "keep your head" in stressful situations and help you to master the key techniques that separate happy, successful people from stressed-out rat race runners.
Maybe Oberon Media/CasualGames should start making the same claims about its own time management games. After all, time management is about keeping your head, whether or not you wear a biofeedback device. A snooty phrase like "the key techniques that separate happy, successful people from stressed-out rat race runners" also torpedoes any interest I might have had in what might have been an entertaining set of games. As a final insult, the graphics look like something from a crappy Flash game.

The Grapher Expansion Pack: See your signals in real time via the Iom!
Now this could be interesting. Although I had the impression that it's already included in Relaxing Rhythms.

Analogous to Myst Online and The Sims Online, there is now a Wild Divine Online (WildDivineOnline.com) where players can meet and explore a virtual world together. A free one-year subscription is part of a limited time special offer: the Ultimate Bundle, consisting of all six titles plus Iom, for half the amount it would cost to buy all items separately (ie. still over USD 500). I'm torn. I'd really like to try out the Iom, because I'm a sucker for interactive technology. I'd love to see the remade Sun Realm (which is said to also work with the old Lightstone), because I'm a sucker for eye-candy. I'd even check out the online world (at a time when no one else is logged on, preferably) because I'm curious: the same reason why I'd want to take at least a peek at any of these titles. But the hippie-yuppie-hipster-guru blather about being MORE and MORE and MORE successful through meditation, invoking all the cliches like "achieving inner piece" and "being in harmony with the Universe" when it's obviously all about material gain, is doing a very good job of repelling me and making me reluctant to give any more money to this company.

But I don't have the money anyway, and by the time I do, the offer will have expired. See? The Universe takes care of everything.