Created: 02-05-2004
Last update: 02-05-2004
Oude Wetering
"Wetering" is an old Dutch word for waterway. There are more of such words, which have similarly found their way into names of places in this water-ridden country. In and around the municipality of Alkemade can be found Oude Wetering, Nieuwe Wetering, Rijpwetering and Weteringbrug, and Amsterdam has its Weteringschans. The "W"-villages are three or more roads big and not always marked on maps, as they are simply too small to bother with. Oude Wetering consisted of "Kerkstraat" and "Veerstraat" running alongside a canal - I was never sure in which order they were, or where one ended and another started - and something called "Meerkreuk" with a supermarket and two bus stops and a wide flat expanse of grass that qualified as park. Cross the park, and you're suddenly in Roelofarendsveen; it's not terribly clear where one ends and the other begins.
A central element of my childhood: the Supermarket. To the right, the ha-ha "park". The top floor windows belong to apartments just over the supermarket. Quite nice apartments; I had the opportunity to see one on the inside, and they combine the space of a small house with the comfort of just being able to pop downstairs for one's shopping.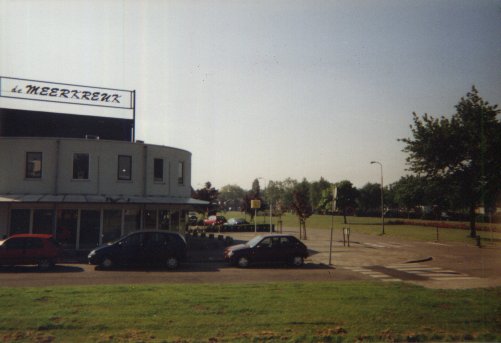 Older houses, behind the park, lining the main road that runs to the centre of Roelofarendsveen. I was surprised to learn that this street side was still part of Oude Wetering. One of these houses I also had a chance to see the inside of. They look small, but are quite high and offer unexpected space in the attic.