And then, Supercoop makes a brave attempt! The "wild" (ie. heirloom and/or unusual) tomatoes that I'd heard of being sold at Albert Heyn and had bought at Ecoville were now being sold in small boxes at Supercoop and yes, these tomatoes have a common origin: an organic tomato farm somewhere in the Netherlands.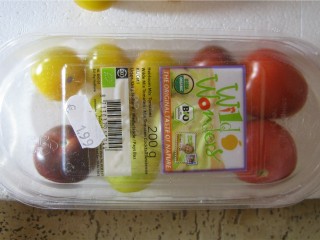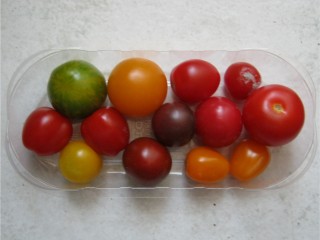 I bought a couple of boxes, since, although an attempt had been made to put all the different coloured varieties in each box, some boxes were mostly in one colour. The box I photographed happened to be evenly mixed. There were ten varieties in all, nine of them in the picture below (the white cherry was from a later box).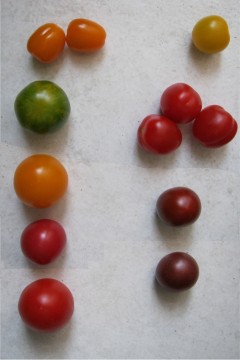 Sadly, the taste of these tomatoes was overall not very developed, especially the purple ones. A poor year for tomatoes, maybe. Here are my impressions per colour: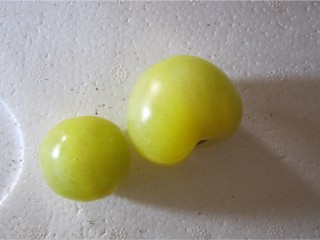 White cherry: very sweet, slightly zingy.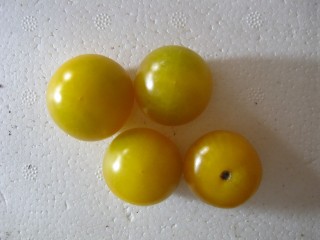 Yellow cherry: sweet.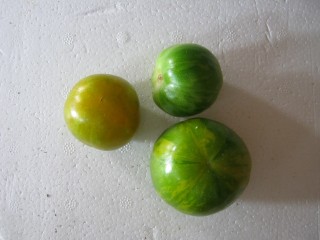 Green striped salad: probably Green Zebra. Sour, mushy and bland.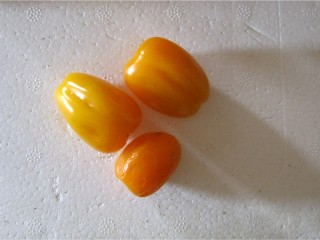 Orange grape: sweet and zingy.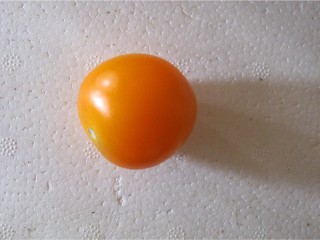 Orange salad: sour and slightly zingy, it was probably meant to be sweeter.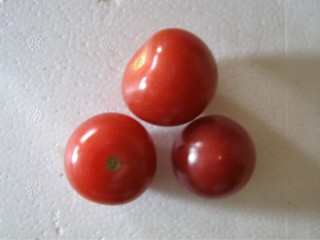 Large pink cherry: sweetsour, strangely zingy, interesting. Could this be the same variety as the soft, limp-tasting pink salad above? (Which I thought might be Opal Essence, but now suspect of having been Brandysweet Plum, in which case it would have been the potato-leaved batch of seedlings.)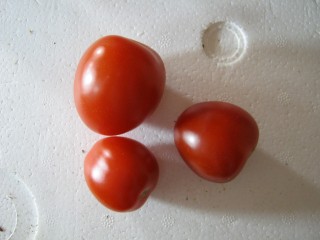 Red mini-roma: sweetish. Which, for a roma type, is good enough.
(Oops, no separate pic, see the rightmost tomato in the open box.) Red salad: sweetish, slightly earthy. A rare instance of a commercially available red tomato having an interesting taste.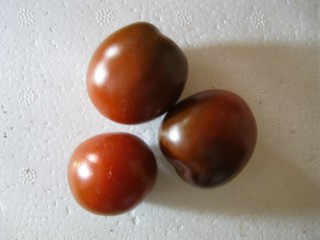 Brown cherry: sweet and smokey with a light zing. The tomatoes are slightly elongated; I wounder if they could be Black Plum.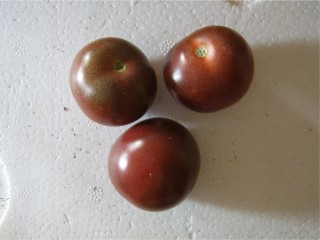 Purple cherry: sour with a bland aftertaste; a pity, as they can taste so much better.
At the same time, the yearly "fawn on the Queen" festival being just over, there was a sale on rather dried-out and scabby orange tomatoes which had been stocked for that event. Though not a fan of the Dutch royal family, I bought them anyway for the fact that orange tomatoes tend to be sweeter than red ones. It seems symbolically appropriate that these tomatoes, sold solely for their Prince-of-Orange colour, were watery and tasteless.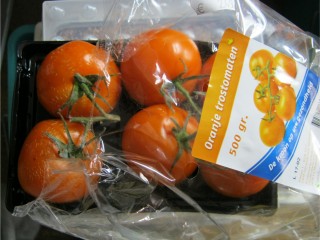 Looie Tomaten is a company dedicated to growing tasty tomatoes, one of whose products, "Looie Subliem" (red cherry toms packaged in triangular cardboard boxes, very expensive) I found and sampled at AH when they were going cheap. Although the impression I got from the packaging was that this was a small family business, and that is undoubtedly how it started, it is now a large company with its own website and several branches, one of them in Spain. The diversity is a bit disappointing, just four tomato types of which one is only available in Spain, and the names (translated: Dream Tomato, Honey Tomato, Looije Sublime) were coined and trademarked by the company, so there is no way to know if these are heirloom tomatoes and if so, what their real name is. Since the company is not only into "taste" but also into "eco" and "personnel-friendly" and "making the world a better place", its website's news page has slightly invasive items, like random employees having to introduce themselves, their hobbies and interests (which reveals that the company relies on Polish labour) and company managers helping farmers in poor countries, or visiting beautiful America! (Have these people ever seen a trailer park?) And their eco-friendly tomatoes are grown on substrate in greenhouses, because let's face it, that's the only way to profitably grow tomatoes in this country. Still, the taste of these tomatoes is consistently top-notch Bloody Butcher sweet - sweet enough to have been used as a flavour in an Italian ice cream parlour, the website reports - because not only do the plants get the best care possible in a professional environment, but each crop that's picked is subjected to a taste test before sending it off to market.