Created: 31-07-2006
Last update: 31-07-2006


What do the birdies wear when out of Birdstyle? Here's a Sims-style summary of their civilian outfits across the series:
Normal
The numbered T-shirts that need no further comment (except, why did Galactor take so long to discover their civilian identities?)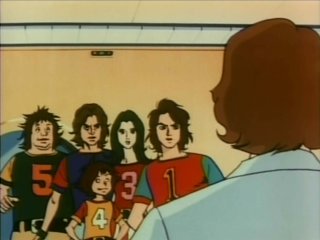 Ryu's jacket, only worn after he's discharged from the team, but without handing in the civvy outfit ("I fought Galactor to save the world and all I got was this lousy T-shirt").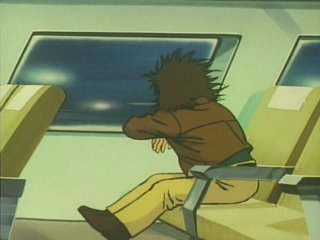 Jun's motor outfit, presumably donned after Nambu lectured her on the dangers of driving without a helmet.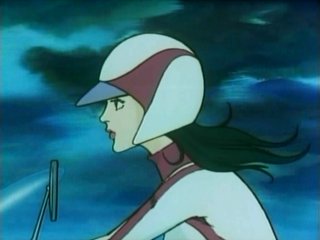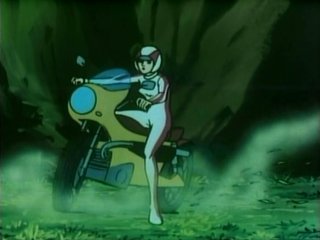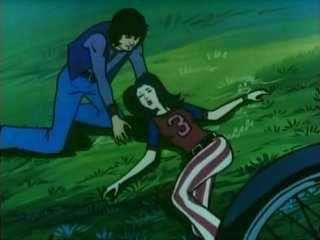 Joe's (George's) "disguise": tacky sunglasses, ghastly cap, blazer and I'm-all-grown-up moustache. And under that, the familiar bellbottoms.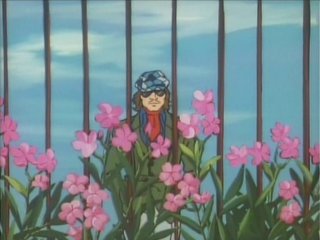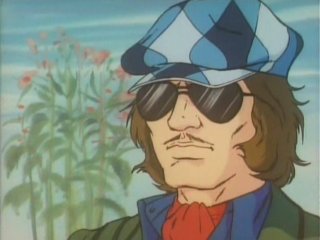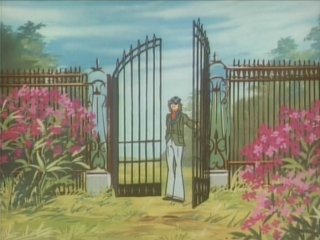 The new numbered T-shirts plus accessories for series II and F, clearly handed out just before Joe is rescued at Cross Karakoram. Including close-ups of the spiffy new shoes. And Ryu doing what he usually only does as Tiny in BoTP: holding a hamburger.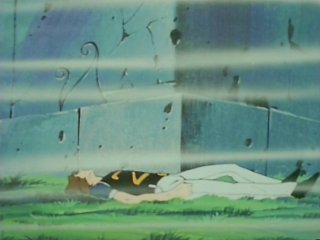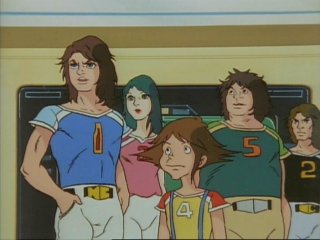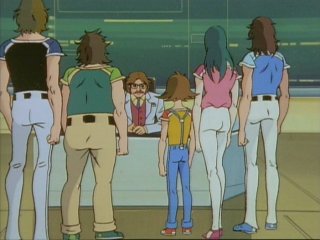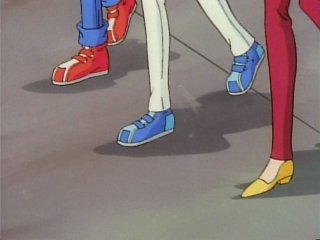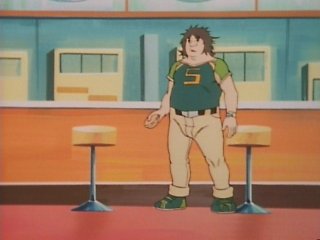 Swimsuit
The first season's swimsuits: striped boxers for Ken, chequered ones for Ryu, Joe prefers navy with a stripe, Jun goes for a "Devil Star" bikini and Jinpei seems to go for the monokini, since his outfit looks the same as the bottom half of Jun's, as the enlarged insets show.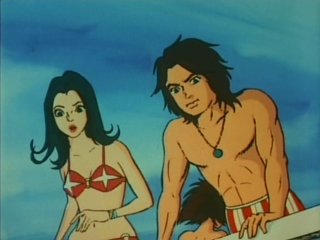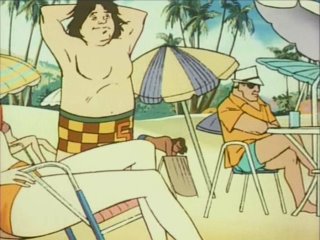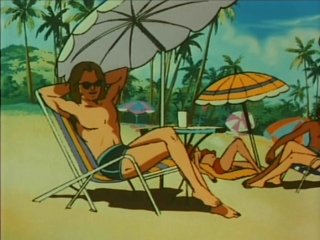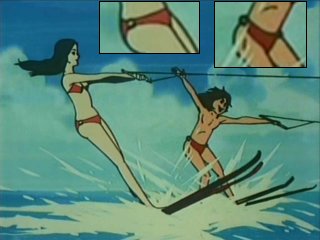 (To keep up his macho image, Joe has again been drawn with sunglasses that scream "pimp".)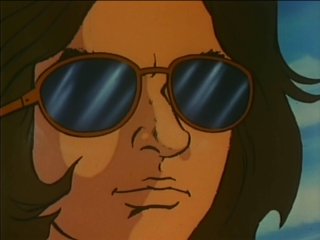 When the team go scuba diving, Jinpei seems to have lost his pants!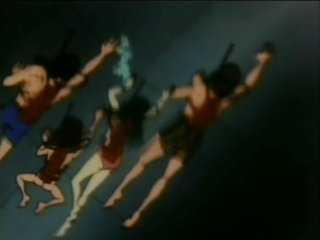 Panning down to show the little stiletto shape on Jun's bikini reveals what it is that Jinpei wears, and it looks uncomfortable.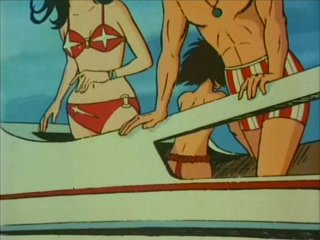 Season II's swimwear is somewhat simpler. This time, Jinpei gets boxers like everyone else.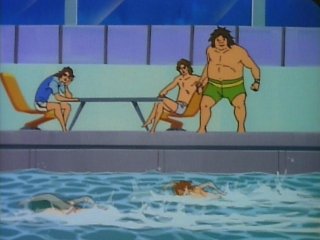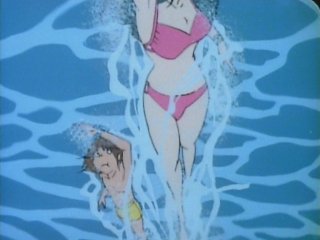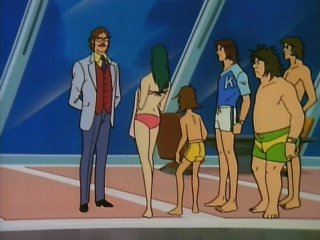 Pyamas/Lingerie
Ken and Joe clearly wear undies in bed, if anything at all.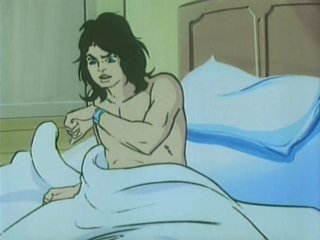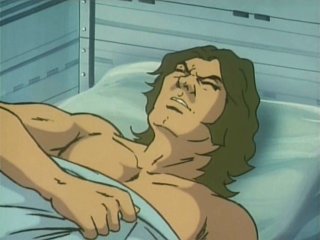 Jun, as befits a girl trying to be feminine, wears a frilly pink nightie.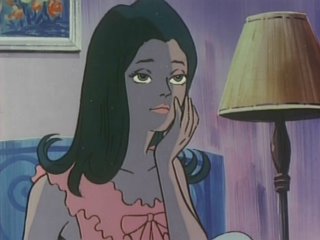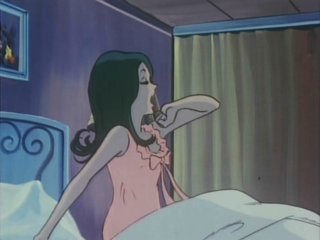 Jinpei seems to keep on his day wear, as in the ep where he hides a beetle under his pillow.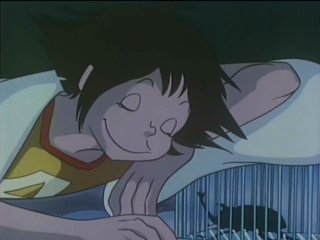 But maybe that's because he doesn't want to be transported to a Galactor base wearing this.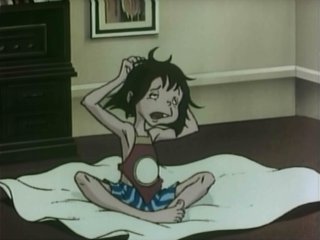 Formal
In the first season, the Gatchamembers have no use for formalwear. The only one in a suit is Jinpei on his birthday, looking unusually well-groomed.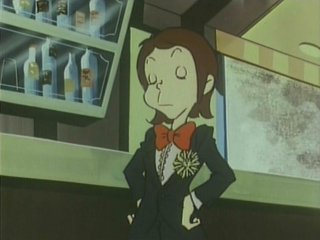 The second season shows only Ken, in a (typical!) shining white tux (looks a bit like his daddy's) when visiting two old friends from the flying academy, one of them now a Galactor. Here he is, front and side.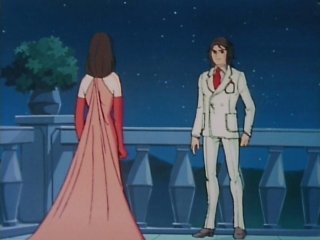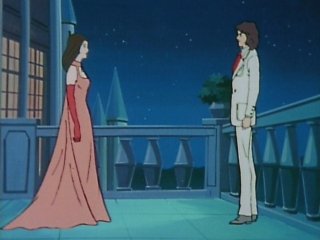 Ken again in a less conspicuous suit, travelling to an underground city in Siberia.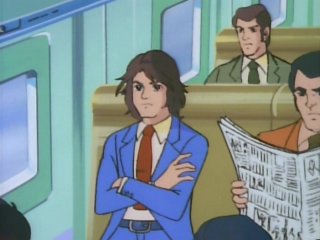 Ken and Joe in blazers, disguised as scientists, in the F season.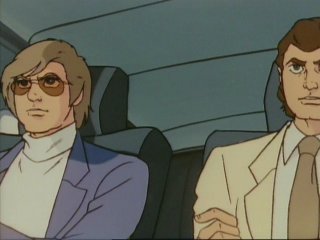 The whole team goes formal, in black this time, at Nambu's televised funeral. A bomb that Egobossler rather callously placed on the tombstone blows up their bouquets and makes it rain flowers.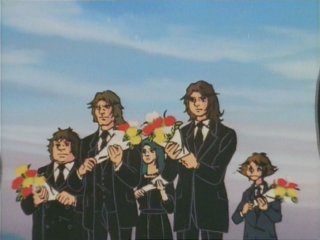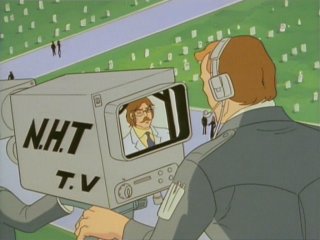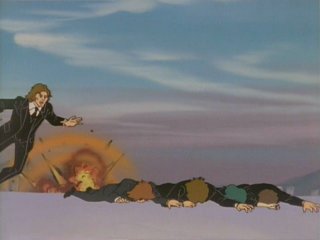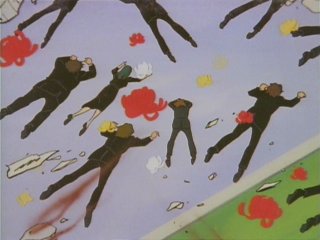 Work
No Birdstyles, I promise. But Ken's aviator outfits from the first two series surely qualify as working clothes.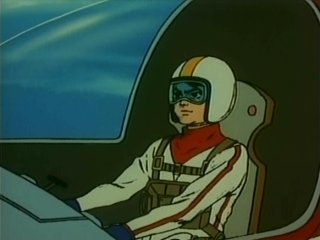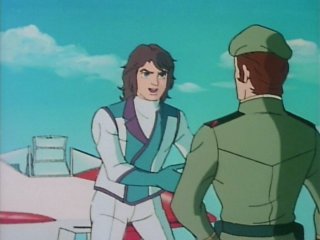 As does Joe's racer helmet (which strikes me as totally unnecessary when driving a car).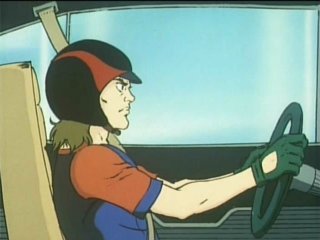 Ditto, Joe's racer slacks (looks a bit more like real racing wear, and uck, still those sunglasses) and truck driver disguise from Gatch II.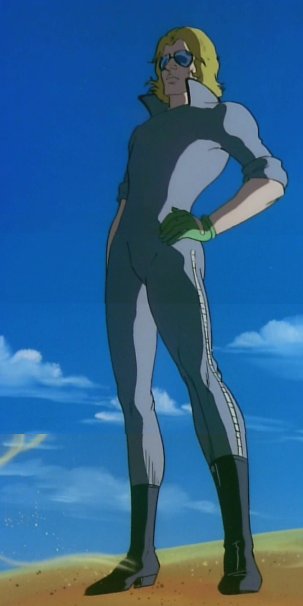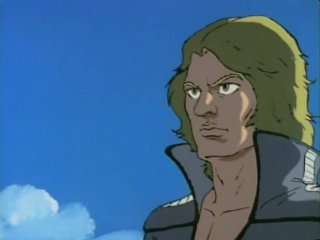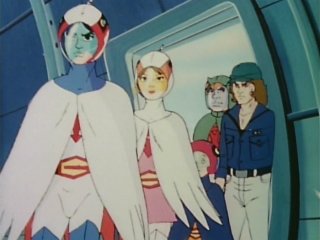 Underwater working clothes: first Ryu and then Ken go scuba diving to investigate into Galactor activity. (Ken will take another dive in the Huntwall eps, when for plot-related reasons he will suddenly develop a fear of water.)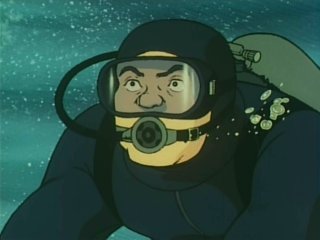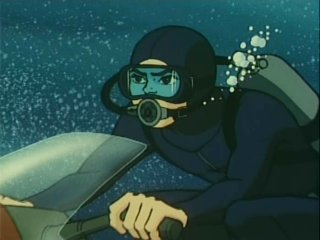 Ken wears a weirdly hybrid uniform for his rescue activities in the Siberian underground city.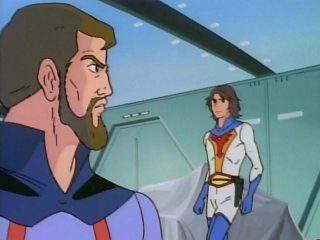 Finally, Jinpei manages to play in a baseball game! (And gets to keep the cap for Gatchaman season II!)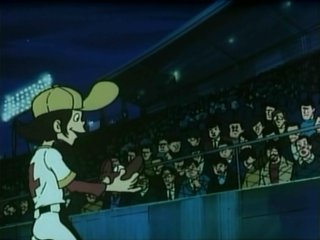 A non-Sims category: training
The outfits worn while training in the submarine base in season II, when Joe is agonizing over his loss of sweating ability - a true disaster for the deodorant industry.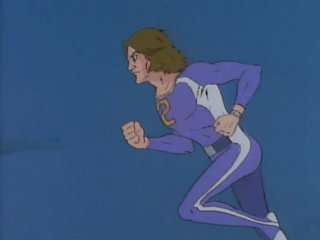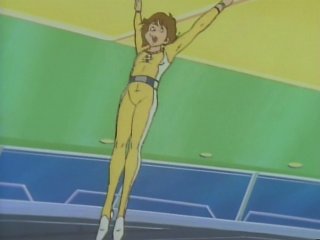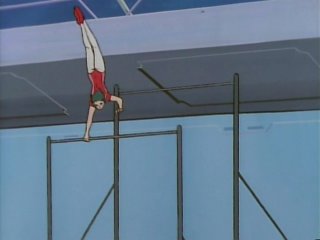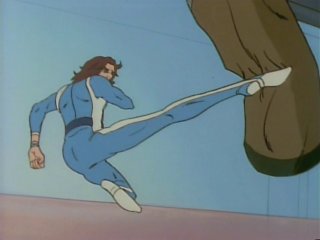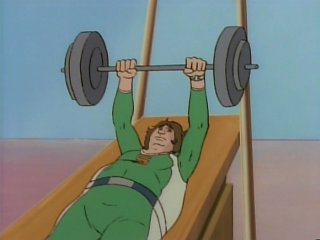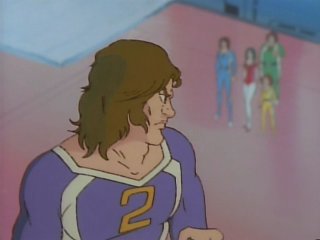 Jun and Jinpei in jogging wear, showing they have no problem sweating.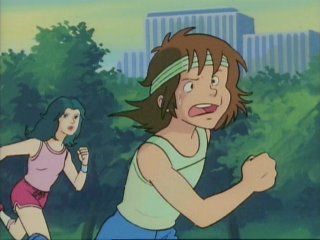 Winter
Since the team prefer to protect themselves against the cold with spandex, only one example: Ryu, while trying to save a little girl from abduction by Galactor.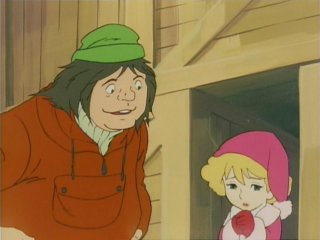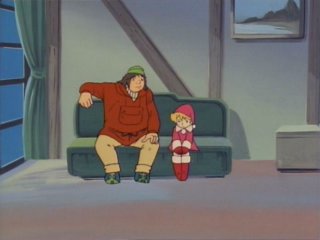 High fashion
Jun-only. On her mission in (among other things) the world's centre of fashion, Jun sneaks into the room of famous designer Carridon and can't help trying on one of her creations. She's mortified at being caught, but the kind Carridon just smiles and offers to let her show a few outfits on the catwalk.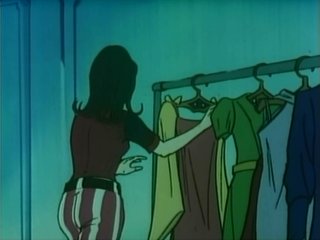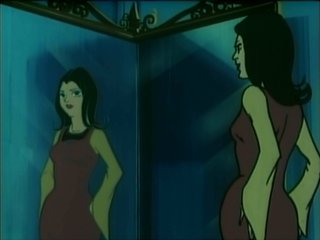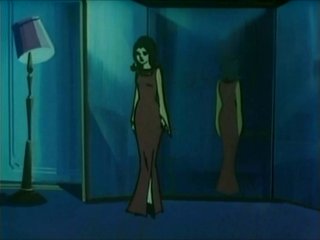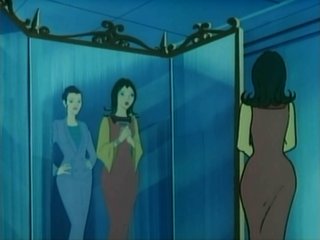 Although there are other models (and they've all been replaced by Masked Assassins in disguise) it's safe to assume from the hairdo that the only model to appear onstage before Katze disrupts the show is Jun.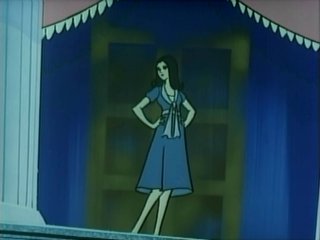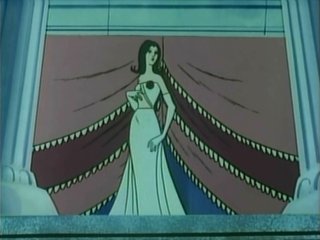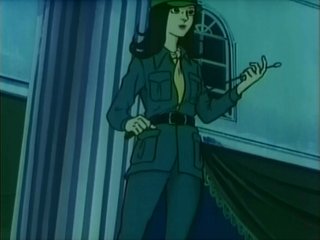 That's it for the special outfits. For the rest, it's just numbered T-shirts, day in, day out.