KiSS data
Content list:




Click here for the same list in a different format.




Katze dolls
The Valentine set

(click on pic to download)



Intended as a try-out, this is the finished part of a set I started way back when... it doesn't have really special effects (FKiSS and some FKiSS2) but I prettied it up a bit for the occasion. It has at least one bug that I know of (palette-related; one image won't come out right) so it's more of a beta test really; if it does anything really funny I'd welcome the feedback. The subject is of course My Fave Mutie, and I should warn right here that s/he's doubly anatomically correct, and the underwear does come off. I've tried to unite all the different "looks" of the Onna Taicho in the series, and the single shot of Katze unmasked near the end, and I can't help wishing the animators had been a little more consistent... Anyway.
This set has two CNF files, one with and one without the gender-change alarms; the reason being that while the set works under both WKiSS (for Windows 3.11) and PlayFKiSS (for Windows 95, supports FKiss2), WKiSS has a bug that won't always let it stop alarms, so the doll changes gender just about every second - most annoying.



The Imitation Emby Quinn Katze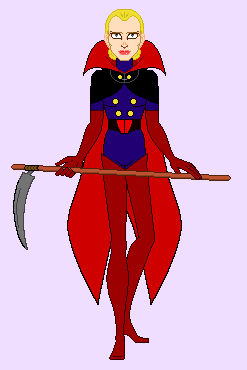 (click on pic above to download)



The second set, however, is completed! As of 05-05-2000, here is the finished imitation-Emby Quinn Katze doll (archive name mbk.lzh to prevent confusion with mbkatze.lzh, the unfinished set that used to be up as a try-out). Although it differs in a few respects - light outlines, smaller eyes - from the genuine Emby style, I think it's close enough. Same nudity warnings, gender changes, and a .cnf file for each FKiSS level up to FKiSS3.

Updated on 11-05-2001: corrected ghost() syntax in MBK-FK3.CNF.

Updated again on 29-07-2002: added FKISSX.CNF, which works under fkiss-x.

To the right, a screenshot of the IMBK pretending to be the Grim Reaper.



Test and demo sets
The Test Set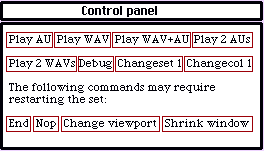 (click on pic to download)



The Test Set with a new filename to distinguish it from the old sets, and some mistakes corrected; this set finally gets all mouseclick events right. Superficially tests all actions/events up to FKiSS3, CKiSS, and palettes, and comes with a huge readme file.

The updated version was updated again on 26-07-2002, with proper testing of viewport() and windowsize(), and FKSONLY.CNF, a version of the FKiSS CNFs with the FKiSS1b syntax taken out; and again on 29-07-2002 to make it compatible with fkiss-x.



FKiSS4 test set (old syntax)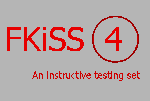 This set tests the first set of FKiSS4 commands defined: the attachment and keyboard commands. Most of these commands are implemented in PlayFKiSS version 2 (PKFS 0518).

Updated on 10-10-2002 to fix an error and add a double-character-in-keylist test.
Purely cosmetic update on 04-11-2002: fixed badly positioned text balloon.



The dancing gingerbread man - a frames demo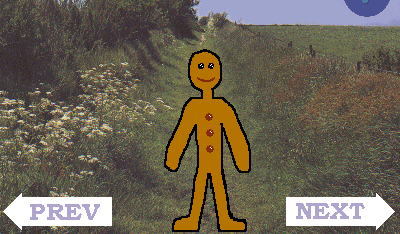 (click on pic to download)



This is a demo set - not a real test - for viewers that recognize frames and cel groups (so far, it only works on UltraKiSS). The brief disappearing of the gingerbread man on page 4 is intentional: it tests what happens when a frame is displayed which has no cels in it.



The windowsize()/viewport() test set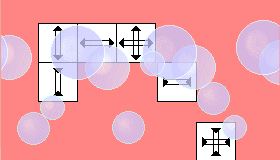 (click on pic to download)



This set tests exactly two commands, which haven't been implemented in many viewers and whose function I therefore didn't understand until I opened the test set frkismi4.lzh in KiSSLD, which does implement them. It was made and tested in KiSSLD version 9i.



Game sets
Slide puzzle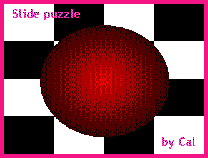 (click on pic to download)



Whoops! Made a calculation error in this set's FKiSS2 cnf. Corrected version put up on 17-07-2001.

Inspired by the puzzle sets of ARKX and Mimi Billewicz: possibly the first ever slide puzzle FKiSS set. Has cnfs for FKiSS2, FKiSS2.1 and FKiSS3. KiSSLD recommended for the 2+ cnfs; doesn't work under WKS32.



Shitennou slide puzzle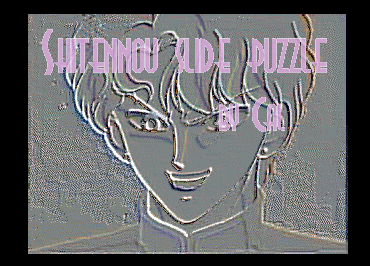 (click on pic to download)



In the same style, but with five screens: the four generals of the Dark Kingdom, for fans of the Sailor Moon villains. Made using screenshots from Stayka's Dark Kingdom homepage (see screen 6 and/or included readme.txt). Warning: enhanced palette!



Whack-a-Santa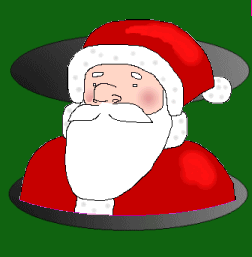 (click on pic to download)



I made this by way of Christmas card, then made a tiny expansion set, Whack-an-egg, for Easter. The sets are identical except that in the expansion set, Santa's head is replaced by a fresh white egg, and a music note in the top left corner plays a dreadfully jolly midi which fits the set exactly. Both sets have a FKiSS2 and a FKiSS3 cnf and, due to their size, should be viewed at a resolution of at least 800x600.



FKiSS Towers of Hanoi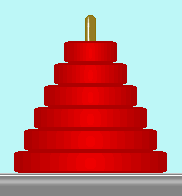 (click on pic to download)



This one was inspired by Infocom's Zork Zero, where the game is called "Towers of Bozbar".



UltraKiSS sets
Wallpaper set

(click on pic to download)



Demo set for object cloning in UltraKiSS: use one square to wallpaper a whole window.



Yuletide set

(click on pic to download)



Make a fire, paint the window, decorate a tree and other end-of-year activities. This set uses only PNG and JPG image files. Be warned: a huge download (3,3 MB)!



Catch-the-Egg, UltraKiss version

(click on pic to download)



Catch all nine eggs before the bunny drops them. This set uses only PNG and GIF image files. Buggy, thanks to Apple's superb Java support. Will be tested and revised as soon as I have access to a PC.

03-04-2005: the set has been debugged and now works as well as it will ever work.
11-04-2005: seems I uploaded the wrong one. Thought I might as well tweak the game. The bunny is now slower and the eggs are easier to catch.



Beta sets
FKSolitaire

(click on pic to download)



This FKiSS4 set has one cnf for PKFS 0518 which is one long messy workaround, and one for PlayKISS which needs Riscos 3.7 and can't be tested until I get the emulator to work. Check out the readme.txt for more details.